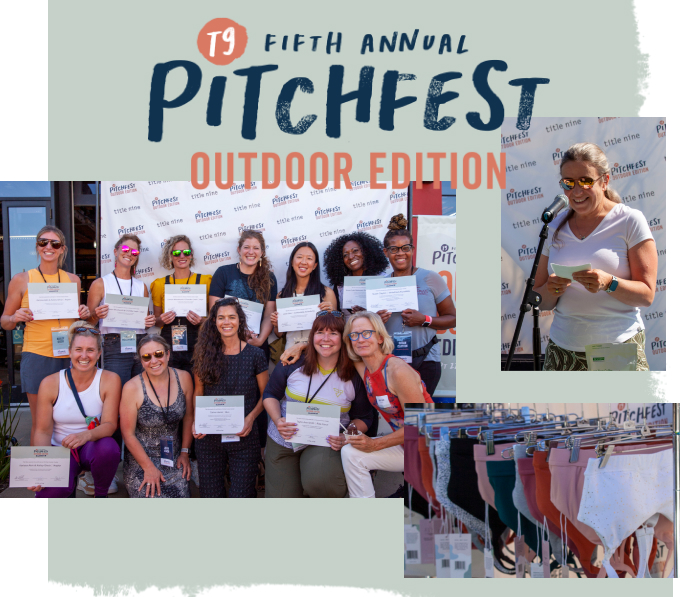 Pop quiz!
Q: What do these women have in common?
A running coach from Maryland with an white-pawed dog obsession
A nordic skier from Vermont who travels the world
A mountain biker from California who holds the record for 1,000,000 feet climbed in elevation
A marathoner, former law clerk, and formidable litigator from Tampa
A: Aside from being badass athletes and business women, they're all winners of 2022 Pitchfest Outdoor Edition — our fifth annual festival of women entrepreneurs rallying at T9 HQ to pitch their products, connect in community, and engage in a little friendly competition.
Here's a quick rundown of the day's agenda
Nine finalists came from all over the country to pitch their outdoor gear in front of a panel filled with business owners, entrepreneurs, seasoned product merchandisers, and our very own CMO.
Pitchfest literally takes place in our own backyard, and we filled it (as we always do) with breakfast, coffee and cold brew, and loads of goodies from women-owned local vendors.
We played rock-paper-scissors to get warmed up. Yeah, seriously. We always, always get things started with a game.
Each finalist had 7 minutes to pitch and an additional 7 minutes of questions from the panel of judges.
After a group workout, we hung out for a one-on-one discussion between Missy Park and Becky Worley where they chatted with Movers and Makers about scaling small businesses with big ideas.
Movers & Makers — women entrepreneurs including winners from Pitchfests past — shared what they've been up to since last year. The resounding message: a ton of growth and a weird (read: tough) year in retail. Hint: Check out our Movers & Makers page to support women-owned small businesses.
After a little more cold brew, we all gathered 'round one more time to hear who went bold and won big this year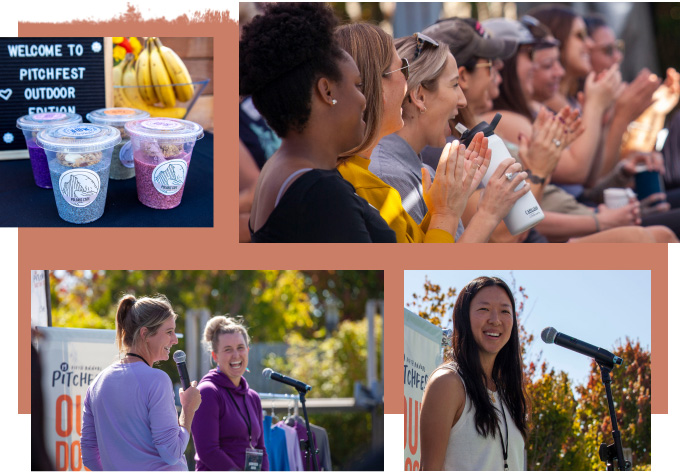 A recap of our starting nine
We already know women do it all and then some. But these women? They're working full-time, burning the midnight oil, holing up in their garages with inventory, designs, and spreadsheets. And they're making it look GOOD. Get reacquainted with the finalist cohort here.
And our newest Movers & Makers — our Pitchfest winners — are…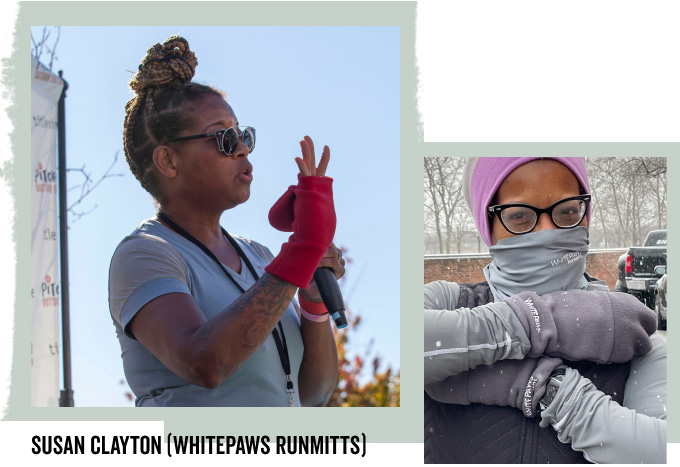 WhitePaws RunMitts
Entrepreneur: Susan Clayton
What she said: "I was a run coach for an organization called Back On My Feet. We met at 5:30a.m., no matter the weather. I could never find the perfect mitten or glove that would keep both my fingers and my thumbs warm, so I invented one. WhitePaws RunMitts is a patented design, thumbless, convertible run mitten designed for outdoor sports enthusiasts."
Why we're geared up: These mittens adapt as our body temps adapt, so we can start with our hands and wrists completely covered, then convert them to expose our fingers when we warm up, then scrunch them up across our wrists when we're really bringin' the heat.
Keep an eye out for: Supersoft, super warm, super convenient run mitts, made with American-made materials — like Polartec — right here in the USA.
Follow WhitePaws RunMitts on Instagram @whitepaws_runmitts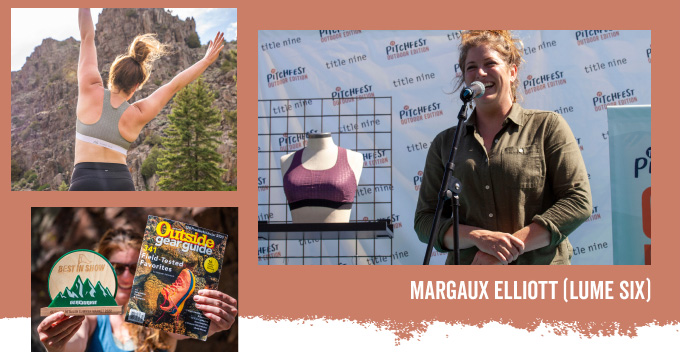 Lume Six
Entrepreneur: Margaux Elliot
What she said: "I decided to use my experience from developing sports apparel for the cycling and snow industry to make a better sports bra. I knew there were more innovative materials and features that were being applied in other sports, but weren't being applied to sports bras — and sports bras are the most important piece of sports equipment for us."
Why we're geared up: It's hard to describe how lightweight, comfortable, and supportive these sports bras are without getting one in-hand and on-body. But ooh baby, with flat-lying bands and straps, and airy jacquard fabric and breezy mesh, Lume Six sports bras really are a level up. In a factory study, they dried something like 19 times faster than a supposed-to-be-comparable Lululemon sports bra.
Keep an eye out for: fine-tuned fitting thanks to Margaux's dedication to inclusive sizing, her approach to mixing and matching bust and band sizing, and medium to high impact designs.
Follow Lume Six on Instagram @lumesix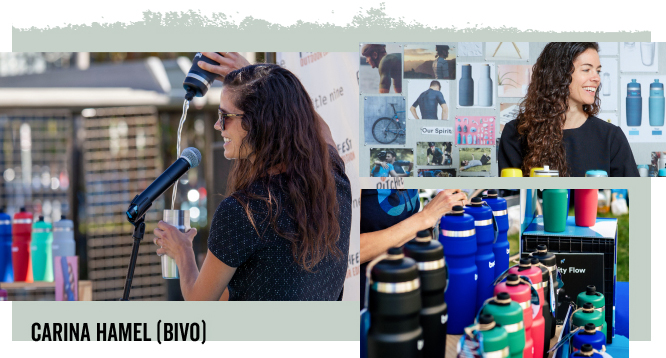 Bivo
Entrepreneur: Carina Hamel
What she said: "The cycling industry is dominated by plastic water bottles that are often looked at as disposable, hard to clean, and bad-tasting. So I created a better bottle — one that's made out of easy-to-clean stainless steel. And we've optimized the flow of water so you can pour and drink with ease."
Why we're geared up: This water bottle really flows. Carina and her team figured out how to keep air out of the way when we drink from a Bivo Bottle. It fits and stays in our bike cages, but we dig it so much, we're carrying these stainless steel water bottles everywhere.
Keep an eye out for: Carina's new best-selling Bivo bottle — a 25oz insulated bottle that's lighter weight than its plastic competitors and still keeps beverages cold for 12 hours.
Follow Bivo on Instagram @drinkbivo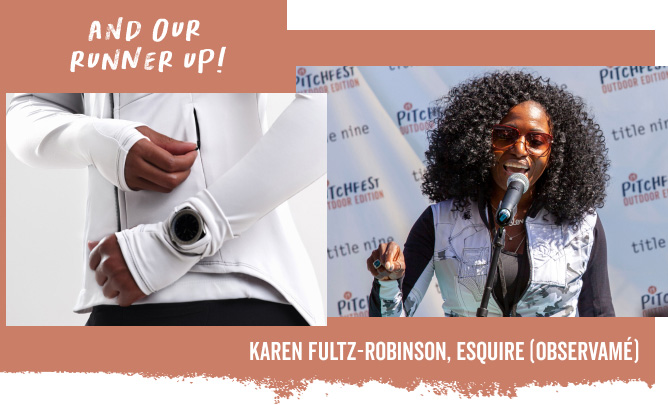 ObservaMé
Entrepreneur: Karen Fultz-Robinson
What she said: "In 2016 on a training run, I realized I wasn't reaching my peak performances during critical training times because I couldn't see my metrics. I couldn't see my watch through my sleeve. So I created a patent-pending design so you can see your watch through your long-sleeve garment."
Why we're geared up: This is gear for just about any cold weather pursuit, including running, cycling, and hiking. We can finally check our pace without changing our pace. And, Karen owns and runs her own cut, sew, and shipping facility right here in the states.
Keep an eye out for: Soft, contouring, chafe-preventing designs that remove what Karen calls "fabric annoyance" so we can get closer to our goals without anything in the way.
Follow ObservaMé on Instagram @observa_me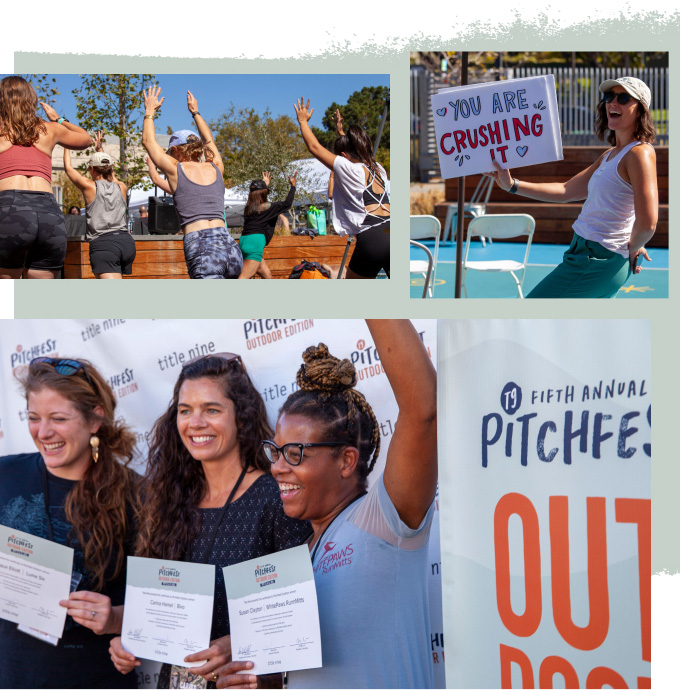 Our hats are off
A huge thanks to our speakers, panelists, mentors, and supporting Movers & Makers. We're honored you chose to spend your time and energy here with us. And believe us, we know how much energy you brought!
Here's to everyone who made 2022 Pitchfest Outdoor Edition a bigger, more impactful success than ever.
Female-Powered Vendors:
Polaris Cafe
The Artisan Kitchen
Tacubaya
Always Yours Bakery Cafe
Nana Joes Granola
Super Juiced
Cafenated Coffee Co
Kasa Indian
BrownCap IceCream
BRAMS Beer
Maker Wine
Sarilla
Workshop leaders:
Becky Worley, Good Morning America
Mark Francis, Uspire Group
Addi Jenkins, Outside Public Relations
Spencer Moore, Outside Public Relations
Steph Wood, Title Nine
Andie Pine, Title Nine
Johnny Lin, Title Nine
Giulia Lukach, Title Nine
Sheila Middleton, Title Nine
Kaydi Kochi, Title Nine
Speakers:
Jamie Hirano, Alpine Fit, 2021 Pitchfest Outdoor Winner
Sarah Clark, B&Me, 2021 Pitchfest Outdoor Winner
Becky Worley, Good Morning America
Missy Park, Title Nine
Mentors (all T9 Movers & Makers):
Alix Klein, ABD Culture, 2020 Pitchfest Outdoor Winner
Erika Togashi, SEPTEMBER, 2020 Pitchfest Outdoor Winner
Sensi Graves, Sensi Graves Swim, 2018 Pitchfest Outdoor Winner
Judges:
Cassie Abel, Wild Rye, 2019 Pitchfest Outdoor Winner and Mover & Maker
Sally Bergesen, Oiselle, Mover & Maker
Angela Medlin, House Dogge / Faas Design Collab
Noriko Morimoto, Title Nine
Alice Lee, Title Nine
Additional T9 Movers & Makers Supporting from the Pickleball court Sidelines:
Thayer Sylvester, Carve Designs
Jennifer Ferguson, Handful
Kim Hopkins & Lisa Carponelli, Velorosa
Corinne Prevot, Skida
Onika Shabazz, Heat Athletic
Jessica Boynton, Hakuna Wear
Stay tuned for information about 2023 Pitchfest Outdoor Edition and Pitchfest Nonprofit Edition, and get caught up on past Pitchfests here.