I started Crossfit exactly one month before my 29th birthday in August 2010. I was living in North Lake Tahoe and had been hearing about Crossfit from a number of friends, including one friend who was able to finally quit smoking and who totally transformed himself all in a couple of months. His results were inspiring, and I had also heard you got to jump around on things, swing on other things, and get upside down. I was so in! Those first couple of days I wasn't sure I'd be able to make that five minute stroll home because I was so frickin' sore.
I've always been active in a variety of different types of exercise, including cycling, triathlons (I can barely swim and I hate to run) Tae Bo, P90X, and more, but none were able to garner my short attention span for long. Crossfit has complemented my A.D.D. perfectly because there are literally hundreds of skills, movements, and lifts not just to learn but also to get the technique right. There's little time for boredom with Crossfit and I always have a list of things I want to accomplish; some of it is improving technique, some of it is doing a skill for the first time, and somewhere on that list is to run more, too.
Basically, there is ALWAYS something that I will pretty much suck at doing, so there is always something to improve and whatever it is, I will hammer it until I get it, get better at it, and then own it. That first month I started, it was double unders, clearing the jump rope twice in one jump. I couldn't do those things to save my life, but after every workout I'd go out into the parking lot and keep trying. This process included thousands of failed attempts, and so, so many painful leg lashings. The first time getting consecutive double unders was like a rite of passage (you know, because people call it a cult). High fives abound! Soon instead of 4 or 7 DUs it was 34 and when I broke 50 I pretty much threw a party. That, in the CF world, means proudly writing my name up on the board, "Michelle M: Double Unders: 52". Oh the glory!
The support from everyone has always been and continues to be incredible and never ceases to amaze me. Only four months after I started CF, I moved to Oakland. I missed the trainers, I missed the friendships, and I didn't think there was any gym that would be able fill those shoes. And then I found Crossfit Oakland. I was surprised to find the same high quality trainers and high quality people with whom to surround myself and I remember on my first visit I watched (from afar) the two strongest women in the gym back squatting, thinking, "damn, they are strong" and subsequently, "I could never do that." Fast forward to now, and I am proud to call them my friends and I am back squatting not only with them, but also at almost the same level!
In March 2011, with much hesitation, I signed up for my first Crossfit competition, The Crossfit Open. At one point, I went through a bout of "my muscles are getting too big" thoughts but that lasted about a minute. I decided I loved seeing and testing what my body was capable of doing, what my muscles allowed me to do much more than anything else. Individuals from different gyms submitted their scores online and then can see the rankings at the end of each week. By doing these competitions I learned, or remembered, rather, that I can be crazy competitive, and that I pee A LOT before any competition. While I absolutely believe that this is all about improving the person I was yesterday, to find someone else who's at a similar skill level as me can offer some unique opportunities to challenge myself and push past what I previously thought I could not do. It's just another element that makes going to the gym fun. I'm competitive, I want to beat the girl next to me. Always. But when she beats me, I turn around and don't hesitate to congratulate her, because she pushed me, and that was the goal.
Since that first Open, I've competed in a couple other competitions, with a couple more on the horizon. The last one was the Nor Cal Regionals team competition. Regionals were a great experience for me. They did a great job of exposing my weaknesses (pull-ups, for the love of God, pull-ups!), but I found I can do well under pressure and I got a PR along the way (140# snatch). It was a 3 day roller coaster of highs, lows, and wtf's…I love to hate that anxious panic attack in the minutes leading up to the 3-2-1 GO! The best moment is that split second after "GO!", right when all that nervous energy gets transformed into kinetic energy; which I'm pretty sure is, like, a law of physics or something.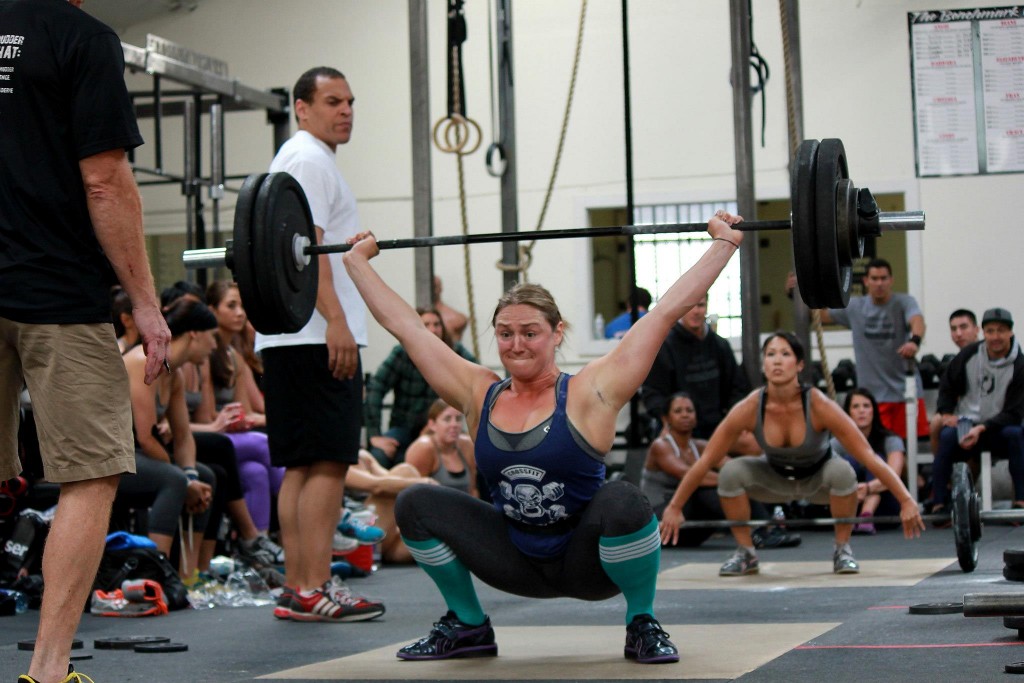 Crossfit has transformed me in ways I couldn't imagine. For starters, I'm no longer afraid to walk over to the "men's side" of the gym. It's also not unusual if I'm picking up a heavier weight than the dude doing his bicep curls, and start doing some dumbbell thrusters if I need a quick workout. That in itself has been a mini transformation for me. And recently I tried rock climbing for the first time outdoors in Kings Canyon National Forest. I had the opportunity to do a multi-pitch climb and was shocked that my arms weren't shaking – at least not from lack of strength. Being able to trust and use my legs and pull my body up with my arms was an amazing application of the functional fitness I train for inside the gym.
In short, I've found what works for me. Any gym where the clientele applauds a 31 year old woman walking on her hands down the length of the gym is my kind of gym. Literally, no weird looks, just an actual round of applause for a little handstand walking. How cool is that? I just want to play, challenge myself, and stay healthy in the process and I get to do that every day.
If you or someone you know has an inspiring story to share about achieving goals, overcoming obstacles or stepping outside the comfort zone, send them our way. That's how we found Michelle! Any and all ideas are read by a real T9er and will be responded to: timeout@titlenine.com (Our greatest thanks to Thomas Camptelli for the fab photo!)