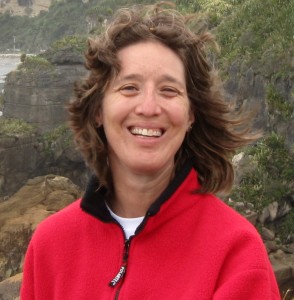 When her sister recommended that we interview Maria Chansky for this column, she told us: "Maria is a Superwoman in every sense of the word—strong, healthy, caring, intelligent, and committed to making the world a better place." It turns out she wasn't exaggerating.
A family physician in rural Colorado, Maria has spent time working with Maori patients in a New Zealand clinic and with underserved communities on the Navajo Nation. She's volunteered in post-Katrina New Orleans and established a free clinic at her local soup kitchen. To top it off, this social justice warrior has recently both scaled Mt. Kilimanjaro and completed a master's degree in medical anthropology.
Somehow, Maria manages to integrate everyday fitness and more challenging activities—including triathlons, backpacking in the Grand Canyon, and biking the 100-mile White Rim trail in Moab—into a life of ten-hour work days and volunteering.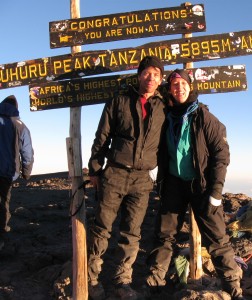 "It can be difficult to work all day and then find the time and energy to exercise all night," she says. In part, it requires knowing yourself. "I'm not much of a morning person, so it's difficult for me to exercise in the morning." So she's developed an after-work regimen that combines fitness and family: "I'll walk about 4 miles or bike 15 miles depending on how much time I have. On the weekends I try to do longer adventures, such as backpacking and taking longer mountain bike rides… My husband is very fit and active, so exercising together is a good way to motivate each other and also to spend quality time together."
A little extra motivation never hurts "When I first started, it was extremely challenging to get through the lengthy workouts. I started to promise myself rewards such as new mountain biking shoes when I completed specific fitness goals."
Maria has learned what many of us do: Ultimately, work and workout complement one another. "I find that keeping myself active and fit helps me be more productive and energized during the day… Working with underserved groups is extremely challenging and demanding. Personally, I find it critical to work out and take care of myself." And Maria's workouts benefit her patients in other ways as well. "Problems such as poor nutrition and inadequate physical activity are rampant among many underserved populations. I find it particularly important to try to be a good role model for these patients. I try to teach my patients about healthy nutrition and exercise. I find it's easier to communicate with them and to successfully get the message across if I have personal stories to share."
Impressed? Well, stay tuned. "Working In Working Out" will be interviewing Maria's powerhouse sister in the near future.
Home: Glenwood Springs, Colorado
Occupation: Family Medicine Physician
Education: Harvard College BA, University of Massachusetts Medical School MD, Prescott College MA in Medical Anthropology
Partner: Russell Swank
Children: none
Age: 44
Height: 5'11"
Weight: can't remember the last time I got on a scale
Sports, past and present: snowboarding, mountain biking, kayaking, hiking, rock climbing, backpacking, surfing, basketball, volleyball
Athletic accomplishments: completing triathlons, multiple backpacking trips through the Grand Canyon, completing the White Rim mountain biking trail about 7 times, reaching the top of Kilimanjaro, rafting and kayaking through the Grand Canyon on the Colorado River, participating/placing in rock climbing competitions
Little known fact about you: My favorite food in the whole world is Ethiopian food. I'm also a colossal Star Trek and Star Wars geek, although most of my close friends have figured this out. My action figure collection is phenomenal.
Environmentally incorrect preference: I drive a Nissan Frontier pickup truck
Guilty pleasure: ice cream, you scream, we all scream for ice cream
Most embarrassing moment: I was on a three week long rafting/kayaking trip through the Grand Canyon as part of a wilderness medicine class for medical school. We were always fastidious in making sure that we cleaned up absolutely everything and left nothing behind. One day we were eating lunch on a pristine beach. I dropped a piece of lettuce. Figuring that it was biodegradable and that some animal might eat it, I kicked a bit of sand over it and went back to my sandwich. When I looked up, I realized that every other member of the group had seen me hide the lettuce! I leaned over and dug up the piece of lettuce and disposed of it properly.
Greatest triumph: Physically, reaching the summit of Kilimanjaro. Personally, managing to balance my work with my studies with my workouts with my relationships. Professionally, working with different populations of patients such as Maori, Navajo, homeless/indigent and trying to learn unique ways to reach different groups of patients.
Favorite thing to do when not working or working out: reading, playing guitar.
Moment of Inspiration: Every morning when I get out of bed…
Favorite Quote: "Long ago, two roads diverged into a forest. I took the path least traveled, and that has made all the difference."


Varies wildly depending on the weather, my work hours, the time of year, personal preference. Generally 1-2 hours nightly, more on the weekend.