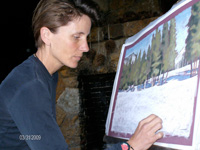 Title Nine customer Jean Sanchirico doesn't care much for down time, which is a good thing because she rarely gets any. Jean owns and operates a successful graphic design firm and is busy building a second career as a
fine artist
. She's also a highly engaged mom to two active preteens and a hardcore athlete who almost never misses a workout. Some gals are fit,and some gals are super fit. Jean is super duper fit. Weekdays, after she drops her kids off at school, Jean goes for a 40 to 60-minute trail run or a two to three-hour bike ride. After her morning workout, it's off to work until it's time to shuttle her kids to their various afterschool activities. Once or twice a week, she sneaks in a 30 to 45-minute afternoon swim. Weekends you're likely to find Jean on the ski slopes with her family or out on a bike ride. One place you won't find Jean is at the gym. "I hate working out inside," she says. "I need to be outdoors." With two careers and a family to run, finding time to stay fit requires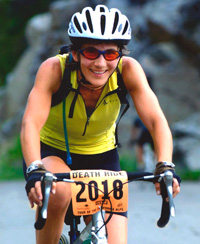 tremendous discipline, commitment, and enthusiasm, all of which Jean has in ample supply. When her graphic design business is busy, fitting in a workout often means working late nights in the studio after the kids go to bed. Jean would much rather skip a few zzz's once in awhile than skip a workout. Why does Jean prioritize staying fit? She loves feeling healthy and capable. She also loves the adrenaline rush and sense of accomplishment she gets from pushing herself and competing. Just how important are sports to Jean? Many years ago she broke her leg skiing. She couldn't stand being idle, so she rode her bike in her cast. A good idea? Probably not.  But undeniably gutsy. You go girl!
Home:
Berkeley, CA
Occupation:
Graphic designer and fine artist
Education:
Rhode Island School of Design
Husband:
Dick McDougald
Child:
Ryan (12) and Elle (9)
Age:
43
Height:
5' 3"
Weight:
113 pounds
Sports, past and present:
Alpine skiing, mountain and road biking, running, surfing, boogie boarding, tennis, backpacking, and triathlons
Athletic accomplishments:
Markleeville Death Ride (129 miles and five mountain passes), cycling the Sonora Pass (high altitude and crazy steep), winning a triathlon with friend Kathleen Flood as part of a two-person relay team
Little known fact:
Played 18 holes of golf to induce labor with first child
Environmentally incorrect preference:
Long hot showers
Guilty pleasure:
Dark chocolate

40 to 60-minute run every other day
2 to 3-hour bike ride on non-running days
30 to 45-minute swim once or twice a week (three times a week when training for a triathlon)
Sit-ups and push-ups a few times a week