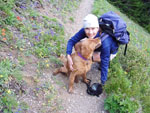 By all accounts, Title Nine customer Barb Trafton leads an inspired life. A full-time mom, community activist, artist, and athlete, she is a woman of many talents. In fact, Barb is a modern Renaissance woman of sorts. She's an independent thinker who can champion a group cause. She's a fierce competitor who is wary of the pitfalls of competition. When presented with the choice to do something easy or interesting, she'll choose interesting every time.
But if you're inclined to peg Barb as a Type A overachiever, not so fast. For all of her energy and enthusiasm, Barb is equally easy-going and serene. She strives to simplify and hates to shop. She does yoga daily and tinkers in her vegetable garden. Her voice oozes a calm contentment of the sort many of us seek but few actually find. Perhaps more than anything, Barb is an avid adventurer who finds her greatest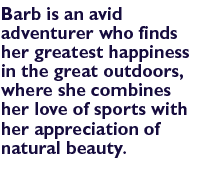 happiness in the great outdoors, where she combines her love of sports with her appreciation of natural beauty. It's a predilection that lies at the heart of her lifestyle.
The Art of Balance
Barb lives on a quaint little island just off the coast of Seattle, which offers easy access to the Olympic and Cascade mountains. An ardent hiker and cross-country skate skier, she regularly takes off for daylong or multi-day hikes and ski trips. But when she isn't off adventuring with her family or friends, Barb begins the day with a dose of serenity. After waking up at 5:45am or 6:00am, Barb does 30 to 45 minutes of yoga, a discipline she took up in her late twenties to help soothe some sports-related injuries. Barb credits yoga with helping her achieve balance, not just physically but in her heart and mind as well. To sharpen her focus, Barb performs her yoga routine right in the middle of the morning bustle as her husband, Bruce, and two teenage children, Keziah (18) and Jackson (15), eat breakfast and get ready for the day. Sometime around 8:00am, she takes the family dog out for a brisk trail walk, which lasts anywhere from 30 to 90 minutes. After that, Barb settles into the work of the day, which begins with a few hours of painting in her studio.
Art is one of Barb's many lifelong passions. After studying art history in college, Barb went to live in Italy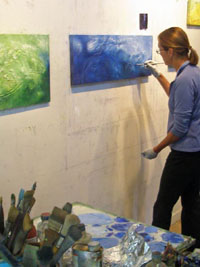 for a year to paint and experience the Renaissance art she had studied but never seen. These days, she does abstract oil paintings using an innovative technique where she carves into plywood and paints on top of it. Much of her work is commissioned, but that's not why she paints. Like yoga, painting is both stimulating and relaxing, intellectual and physical. It also provides a means for reacting to the world and expressing her observations. Barb finds that exhilarating.
An Active Activist
Around midday, Barb usually breaks from painting to focus on her volunteer work for the Bainbridge Island Land Trust. A longtime board member, Barb is dedicated to protecting the island's natural beauty and natural resources. "When you live on an island, things are very defined," she says. "For instance, our water is our water. If we run out, it's a problem. So we really have to guard that we don't overdevelop." Much of Barb's work involves fundraising for land purchases. Recent projects include transitioning a Superfund cleanup site into parkland and working with a local Native American tribe to protect portions of the shoreline. It can be thankless work, but it's often interesting. Most importantly, Barb is fully dedicated to the cause.
Finding Her Cadence
For many years, Barb's afternoons were fairly consumed with shuttling her kids to and from various afterschool activities. But since her daughter reached driving age, Barb has had a little more free time.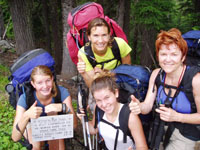 These days, she usually fits in another workout around 2:30pm or 3:00pm. Occasionally she cycles. Occasionally she swims. More often than not, she goes for a 90-minute row on the sound. Sometimes she rows hard. Other times she just slings it along at a jog-like pace. But one thing is always the same—Barb relishes the feel of her heart pounding, the smell of the cool air coming off the salt water, and the sight of the sea lions frolicking and bald eagles flying overhead.
A competitive swimmer since age 11, Barb started rowing in high school to fulfill a second sport requirement. At 5 feet 11 inches tall and less than 140 pounds, she had the perfect build for it, even if a tad on the light side. By the time she graduated, rowing was Barb's sport of choice. After rowing on the U.S. Junior National Team at age 18, she went on to row for the Princeton University crew. Upon graduating from Princeton, Barb left for Italy, figuring her competitive rowing days were behind her. But one morning in Florence, she saw some folks rowing under the Ponte Vecchio and she thought, "Oh, I have to do that." Soon enough, Barb made her way onto an Italian rowing team and eventually got invited to the Italian National Team camp near Rome.
With her competitive juices flowing once again, Barb moved back to Boston and continued to train and work odd jobs while her husband, a former competitive rower himself, coached rowing teams at Harvard and MIT.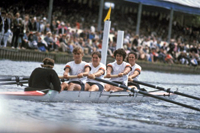 In 1984, at the age of 24, Barb was the lightweight single on the U.S. National Team. She placed second in the FISA Championships that year, but didn't get to go to the Olympics because at the time there were no lightweight Olympic rowing events for women. (There are now.) In 1985, Barb rowed in the lightweight double for the U.S. National Team and placed fourth in the World Championships. She tried to make the 1988 Olympic team as a heavyweight, but she just couldn't keep on enough weight to be competitive.
Passing the Competitive Mantle
Even now, at age 48, Barb still enjoys rowing as much as she ever did. She occasionally races with a local group called the Sound Rowers, but mostly she just rows for good exercise and good fun. Has she lost her competitive drive? No way. Her priorities have simply shifted. "Maybe I would have continued doing various competitions," Barb says, "but I wanted to prioritize supporting my kids' sporting events rather than doing my own."
Barb's daughter, Keziah, swims and rows. Her son, Jackson, plays soccer, runs cross-country, and recently started rowing as well. With such active kids, attending their sporting events can sometimes seem like a full-time job. It often consumes Barb's early evenings as well as big chunks of her weekends. But Barb loves it. Not only does she find it fun, she thinks her kids' athletic pursuits are important, too. "I think that through sports, so many kids learn to be goal setters at a time of their lives when they're not as motivated sometimes to set goals," Barb says. "So I think it's such a great life lesson."
Fitness as a Family Affair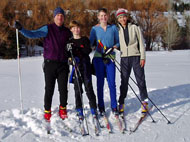 As you might expect from a Renaissance woman, Barb is still learning lessons through sports herself. Ever seeking self-improvement, she believes that being physically fit makes her a better wife and mother. "Partly because I'm happier," Barb says, "and partly because I'm more self-knowledgeable. But also partly because it's something we can share and have fun doing together." Simply put, sports bring the family closer. They hike together. They ski together. They even sea kayak, windsurf, and play frisbee together. You could say, Barb and her family are living proof that the family that plays together stays together. You go girl!
Are athletics part of your family together time?