If at first you don't succeed, try and try again. Or in this case, take a moment to pause, gain some new perspective and most importantly, give yourself some credit! Thanks again to Amy of Expand Outdoors for beautiful insight to tackling new challenges, and patting ourselves on the back.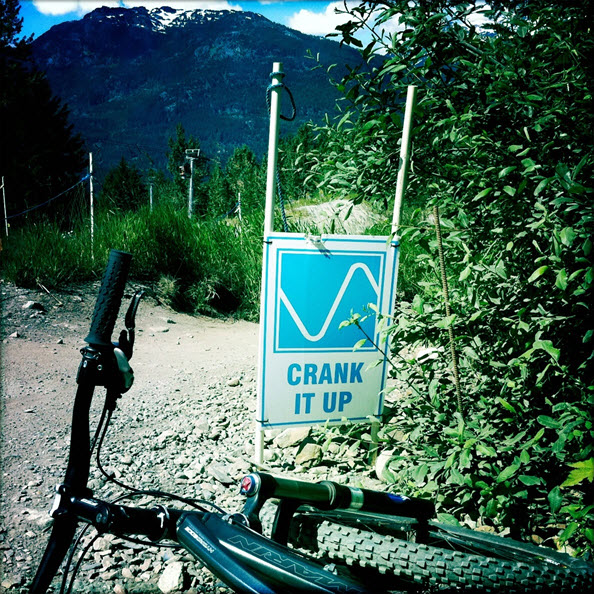 "I'm slow" had been a mantra for me ever since I got into outdoor activities. I would be painfully aware that I was bringing up the rear, the slowest person on the trail (or in the pool, or on the road). I constantly feared I was holding my friends and companions back, so developed a habit of apologizing for being so slow. And worse, an excuse to not get out there at all in an effort to avoid the uncomfortable feeling of embarrassment and incompetence.
The first time I rode a mountain bike on a single track trail, I felt like a toddler constantly running and playing "catch-up" with an older brother.
Or brothers. I was with a group of male friends—all very experienced—who would take turns waiting for me at various intervals along the trail. Their kindness was totally appreciated, but also humbling.
Despite moments of frustration and impatience, I had fun on that ride. And their encouragement and stoke watching me get out there and have fun was contagious. Still, I was self-conscious and sensitive to my in-expertise.
Winter arrived soon after, and I didn't ride again for a couple of years. Mostly because I didn't have a mountain bike, but also because I was avoiding my fears and self-consciousness. I wanted to ride. I wanted to love it. And I'd glimpsed some magic moments when I felt the rush of enthusiasm and pure joy of riding.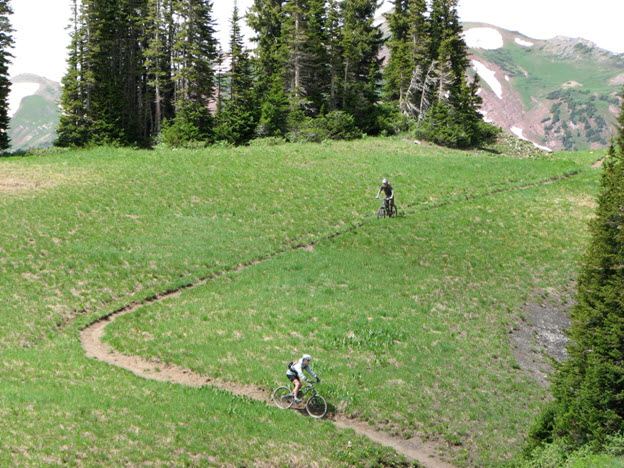 The seeds had been planted on that first ride, but I had allowed my fears to get in the way, nurturing those seeds very haphazardly (and not very effectively).
When one of the friends on that first ride became my husband, we decided to convert a van and live on the road for a year (we called it the adVANture). We planned to visit a number of well-known mountain biking trails and communities during our travels (think the Pacific Northwest), and I decided it would be the perfect time to get back on the bike and ride.
I wanted a bike I was comfortable on, so we sold my road and tri bikes and shopped around for a mountain bike.
At the time, I was (sporadically) riding a hand-me-down, but it was bulky, heavy and a lot of bike for my novice handling skills. I felt clumsy trying to manage what felt to me like a huge hunk of metal under me. I wanted something smaller and lighter that I could grow into as my skills developed.
As we shopped, I was thrown into a world of new terminologies and complex engineering. Luckily my husband is quite knowledgeable and patient, so between his expertise on various builds, components and brands, and my instincts for what felt good as I test rode the options, I found a bike I was excited about.
When I got it home, I couldn't wait to go for a ride. If I wasn't in love with the sport yet, I certainly was beginning to feel some affection for this new hunk of metal.
Which is what it felt like underneath me. Not as clunky and heavy and my husband's old bike, but definitely bulky and separate from me. I loved the idea of her, but riding was an entirely different story.
For my first ride on the new bike, a gentle trail outside of Boulder seemed perfect. It was short, not too many corners and had minimal elevation gain.
I fell on my first switchback.
While I'd love to say that I got up laughing and in good spirits, that was decidedly not the case.
I cried.
I finished out the ride, stiff and worried about falling again, cursing myself, the clipless pedals, and most of all, my inexperience and lack of skill.
After numerous excuses, I finally went out again. But something was still holding me back. I wasn't trying new things. Frustration, fear, tentativeness, hesitancy: I was experiencing all these emotions without a lot of the joy, freedom, and elation I used to get—or imagined I should have.
I was worried about our upcoming adventure. Would my bike gather dust in the back of the van?
It sucked. And it sucked for my husband, too. I felt like a terrible riding partner. I cried more times than I smiled on the trail. He was patient, but just didn't know how to help me. I didn't know how to help me.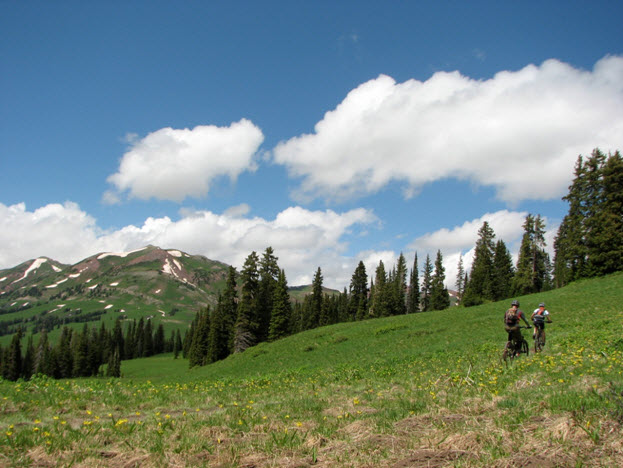 I was determined to love it, yet still resisting and avoiding. Something needed to change.
A few things happened that began to help me shift from fear to fun. I did two things immediately, and one was an unexpected bonus.
The first thing I did was switch to flat pedals. I'd been hesitant to take any risks with my feet locked in, but as soon as I began running flats, the world of mountain biking started opening up again. I took more risks and began to see progress in my skills.
The second thing I did was begin to embrace and accept where I was skill-wise. I realized my expectations were pretty high (and frankly, unrealistic), I often judged myself for not having more of the skills experienced riders had, and my Inner Critic was getting pretty loud.
Letting all that go wasn't easy, but simply setting the intention was helpful.
Riding with my husband became a lot more fun. He's a wonderful teacher and quite patient. But he's also an expert mountain biker. Having grown up on a BMX bike, he is what you'd call a "natural," easily making hurtling down a steep trail look graceful. And easy.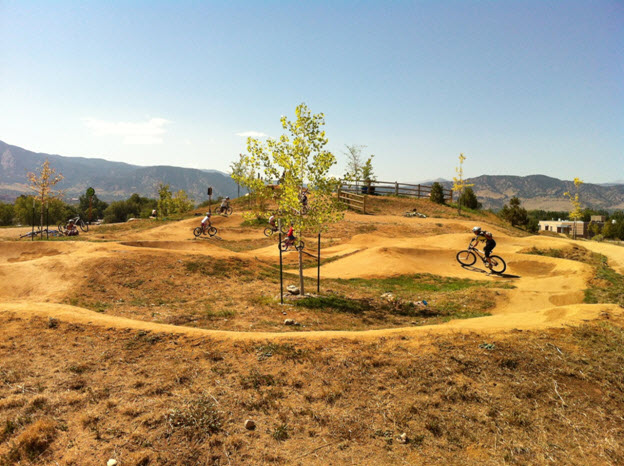 My assessment of my riding skills was that I was slow, cautious and always the last in the group. I didn't necessarily mind it, knowing I was a beginner and recognizing that most riders were way more experienced than me.
"I'm slow," and "I'm a beginner" became subconscious mantras in my head.
I had no other frame of reference. I didn't know any other riders like me. And they were certainly hard to find as we traveled.
Until Prescott, Arizona. There, we stumbled upon the biking community and were instantly welcomed into a warm and inviting group of enthusiastic riders. My husband got to experience some serious technical downhills (that he'd never have found without guides), and i was invited to join a women's ride one evening.
As we got started, I let them know that "I'm slow" and that "I'm a beginner." So of course I'll be at the back of the pack. Because this was my reality.
As the waning sunlight cast a soft glow over the trail in Prescott, it became clear that I had misjudged myself. I wasn't all that slow. And I didn't feel like a beginner.
I felt normal. Average. Competent. What a revelation!
I realized my perspective had been wildly skewed. It no longer mattered to me how fast or slow I was, or how experienced or inexperienced I was. I was able to completely let go of my self-judgements and allowed myself to sink into my own experience and measure my progress and gains against the only person that really mattered—me.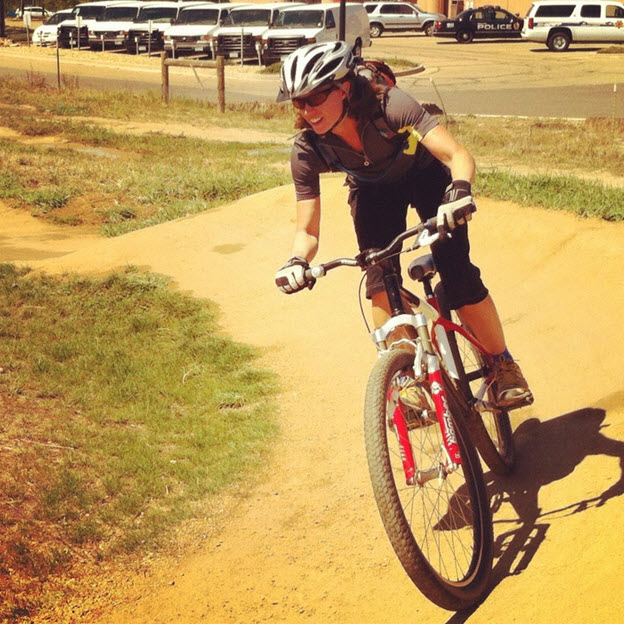 When we got to the Pacific Northwest, I pushed myself. I had fun learning. And I realized there, as I was working up to a new skill at a local bike park, that I'd finally fallen in love with mountain biking. Sure, there's still a lot of skill-building to be done, but I no longer judge myself so harshly. Instead, I concentrate on having fun and enjoying where I am at any given moment.
Some days I go faster on the downhills than others. Some days I feel inspired to try riding raised wooden trails at the bike park. Others I very consciously ride around them.
But mostly? I go out and have fun, comfortable and happy to be out there, doing my thing. And if that's not being successful in a sport, I'm not sure what is.
What's your love story?
——
About Amy
Amy Christensen is a certified life coach with a passion for adventure and helping women tap into their own adventurous spirits. Based in Boulder, CO, her company, Expand Outdoors, focuses on creating healthy, sustainable, and fun lifestyle changes. She most recently launched 31 Winter Adventures, an email series delivering daily adventures to your inbox for 31 days in celebration of the winter season.