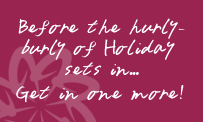 One more run in the daylight hours.
One more swim outdoors.
One more ride before darkness descends too early.
One more hike before the trails are impassable.
One more weekend without a mile long to-do list.
One more reason to get outside.
Let's all get out while the getting's good.
Share your one more for fall in the comments section!

Missy Park, Founder