One of our favorite accessories in summer months is the lasting perfume that could only come from barbecuing up a storm.
Here are some of our favorite grilling tips and recipes.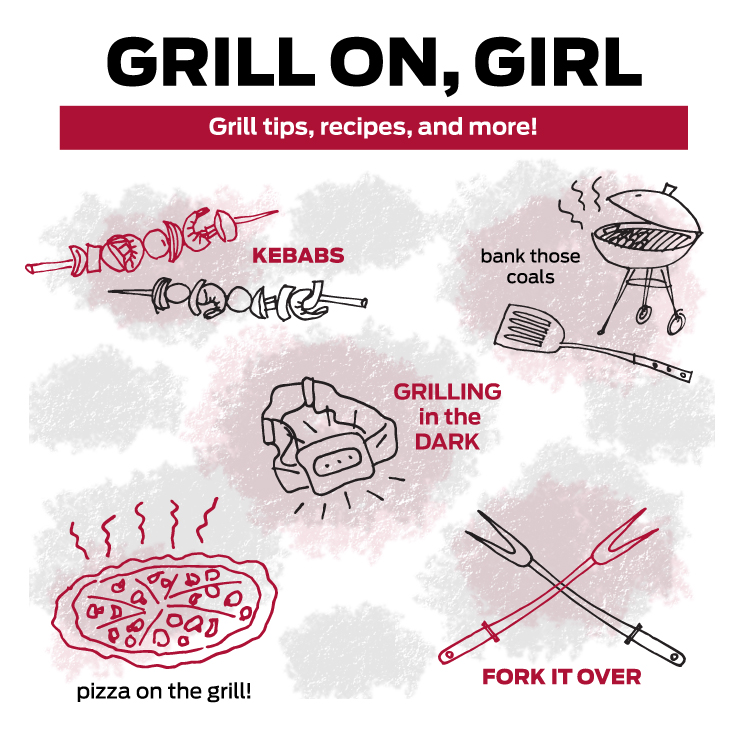 TIPS STRAIGHT FROM T9ERS
"I grill year 'round. I use one of our Title Nine Ultimate Night Lights for light in the darker months." – Ann ('Que Queen)
"Stop your wooden kebab skewers from charring on the grill by soaking them for a few hours – or overnight – before you load 'em up with meat and veggies." – Jennifer (Grill Guru)
"For a crispy crust, I love doing pizza on the grill. Dust the bottom of the crust with cornmeal before grilling to help the pizza dough slip on to the grill easily." – Larissa (Resident Chef)
"Toss fresh veggies with olive oil and add a little salt and pepper. They'll be perfect on the grill." – Abby (Creative Foodie)
"Bank hot coals by moving them to one side of the grill for searing and use the other side of the grill with the lid on for roasting." – Janis (BBQ Betty) [Grab Janis' favorite BBQ recipe for Peruvian Grilled Chicken here. Bonus: we've successfully applied this to vegetarian grilling and it was delicious!]
What is YOUR best grilling tip, or favorite recipe come BBQ season? Share with us below!