How it all went down
We asked you to wow us with your most festive holiday cookie and cocktail recipes, and did you ever! After reviewing all the delicious submissions, it was narrowed down to our three favorite cookies and three favorite cocktails. We picked the best bakers in our Creative Department to personally prepare the cookies, and gathered all the cocktail ingredients for our Title Nine mixologist to work her magic.

Then the fun began, as we invited the team at our Emeryville headquarters to put on their judging caps and try the treats and drinks. There was much discussion (which cookie was the most chocolaty) and some surprises (pepper really does taste good in a cocktail).  The votes were cast, and the winners revealed. Congratulations to Julie and Melissa for submitting the winning recipes.  They will each receive a $25 Title Nine gift certificate and of course, ultimate bragging rights!
Now grab a mixer or a bucket of ice and try 'em for yourself
We've listed the top three cookie and cocktail recipes below. You can find all the submissions in our original post. Thanks to everyone who took the time to submit a recipe!
---
 The Winners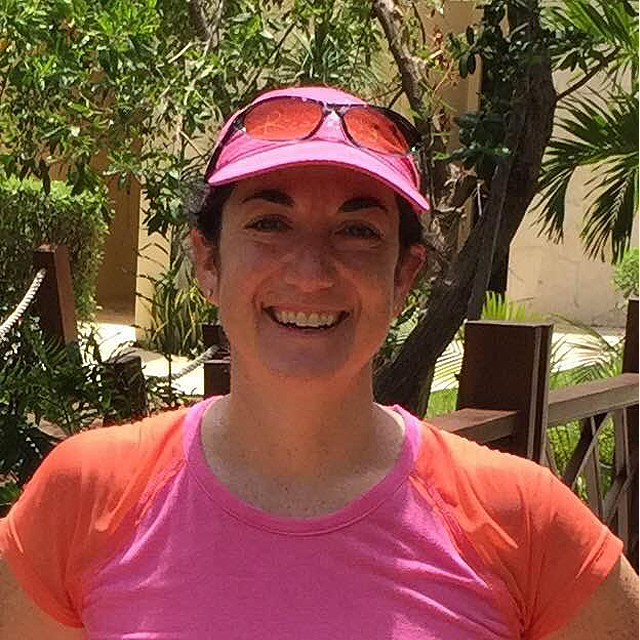 Seriously. Best. Cookies. Ever. (Mint Chocolate Sables)
Julie's cookie story: The irony of my holiday cookie love is twofold – 1) My day job is Healthy Living Marketing Manager for a regional supermarket chain, so I really should be making these with avocados, lentils and carob… But please, people, that's what we're having for dinner not dessert. 2) I celebrate Chanukah, which is not really a cookie holiday! But, I absolutely love to bake and really do enjoy the holiday season.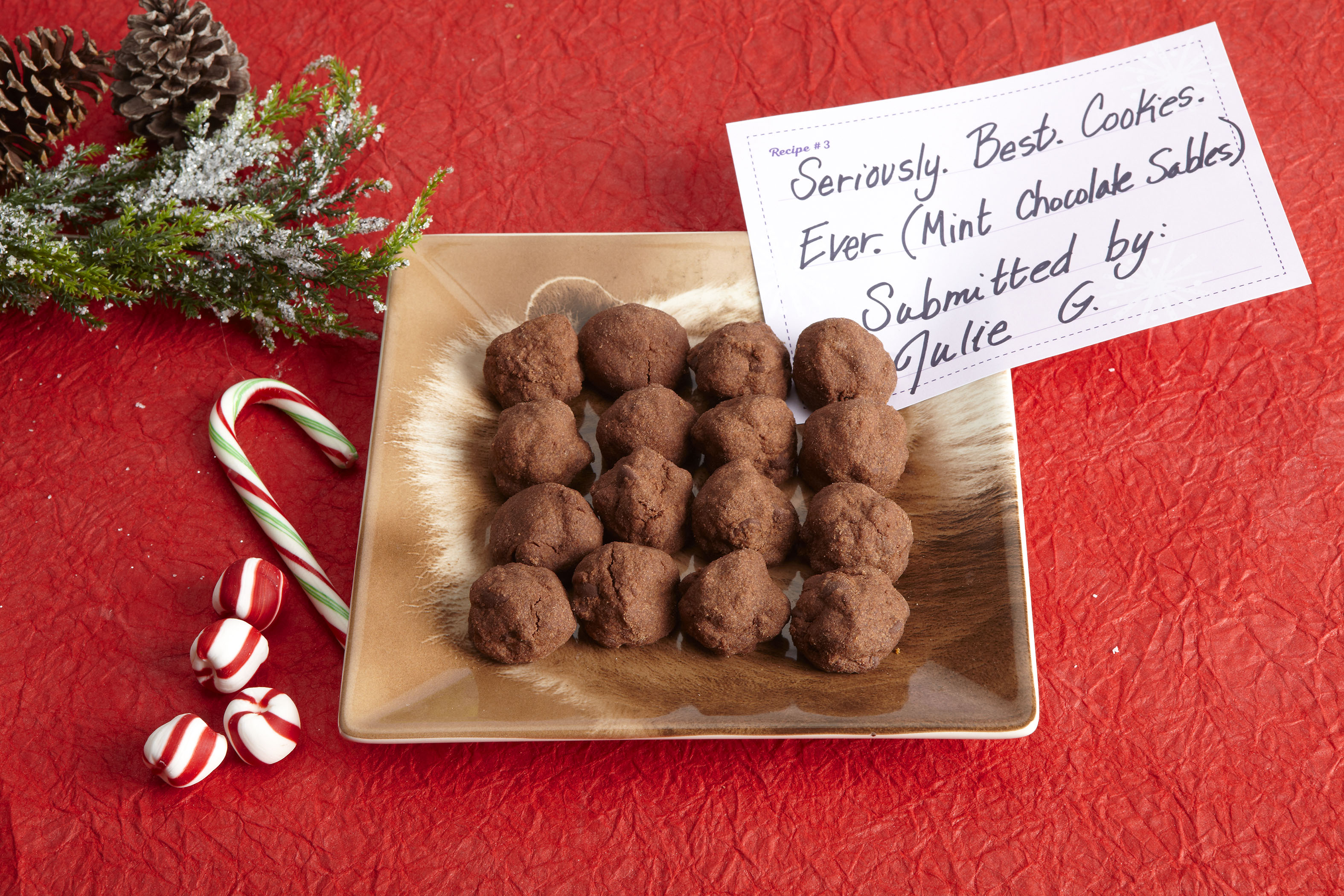 Ingredients:
2 ¼ cups all purpose flour
¾ cup plus 1 Tablespoon cocoa powder (I like Hershey's Special)
1 ½ teaspoons baking soda
½ teaspoon salt
2 ½ sticks unsalted butter, room temperature (may add up to 3 full sticks, if needed).
2/3 cups granulated sugar
1 2/3 cups packed dark brown sugar
1 teaspoon vanilla extract
½ teaspoon peppermint extract
1 ¼ cups bittersweet chocolate chunks
Preparation:
Sift together flour, cocoa, baking soda and salt into a large bowl.
Cream butter on medium speed (stand mixer) until soft and smooth.
Add sugar, brown sugar, vanilla and peppermint. Beat on medium until light and fluffy.
Add flour mixture to the butter mixture on low speed until just blended thoroughly. (if dough is still too crumbly after a good amount of mixing, toss in a little more butter.)
Add chocolate chunks and mix until evenly distributed.
Transfer the dough onto work surface and divide it into 5 or 6 equal parts and roll into 6-8 inch logs.
Wrap each log tightly with plastic wrap.
Refrigerate until firm at least 45 min. (Logs can be refrigerated up to 3 days or frozen for up to a month).
Remove logs from fridge and, with a sharp knife, cut ½ inch thick slices and place them on parchment paper-covered cookie sheets spaced two inches apart.
Bake at 350 for 8-10 minutes or until centers are just firm to the touch. Remove from oven and transfer to wire rack to cool.
Makes 72 cookies.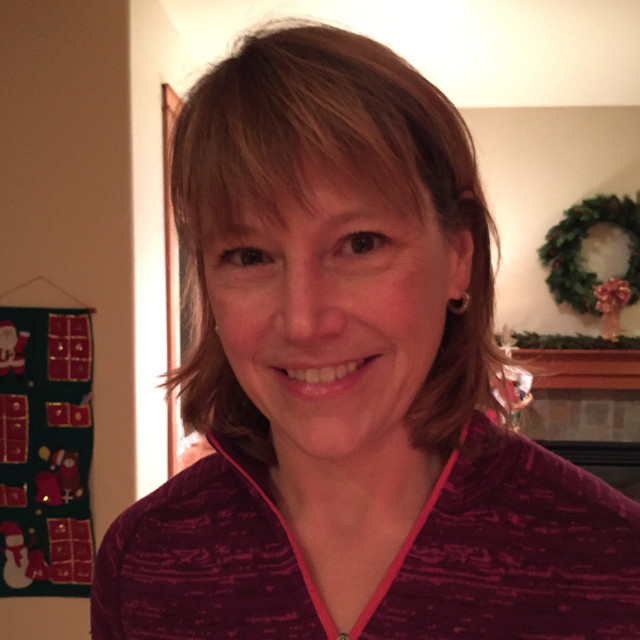 Salt and Pepper Martini
Melissa's cocktail story: While I would never turn down a cookie, I prefer this lovely cocktail for the holiday season!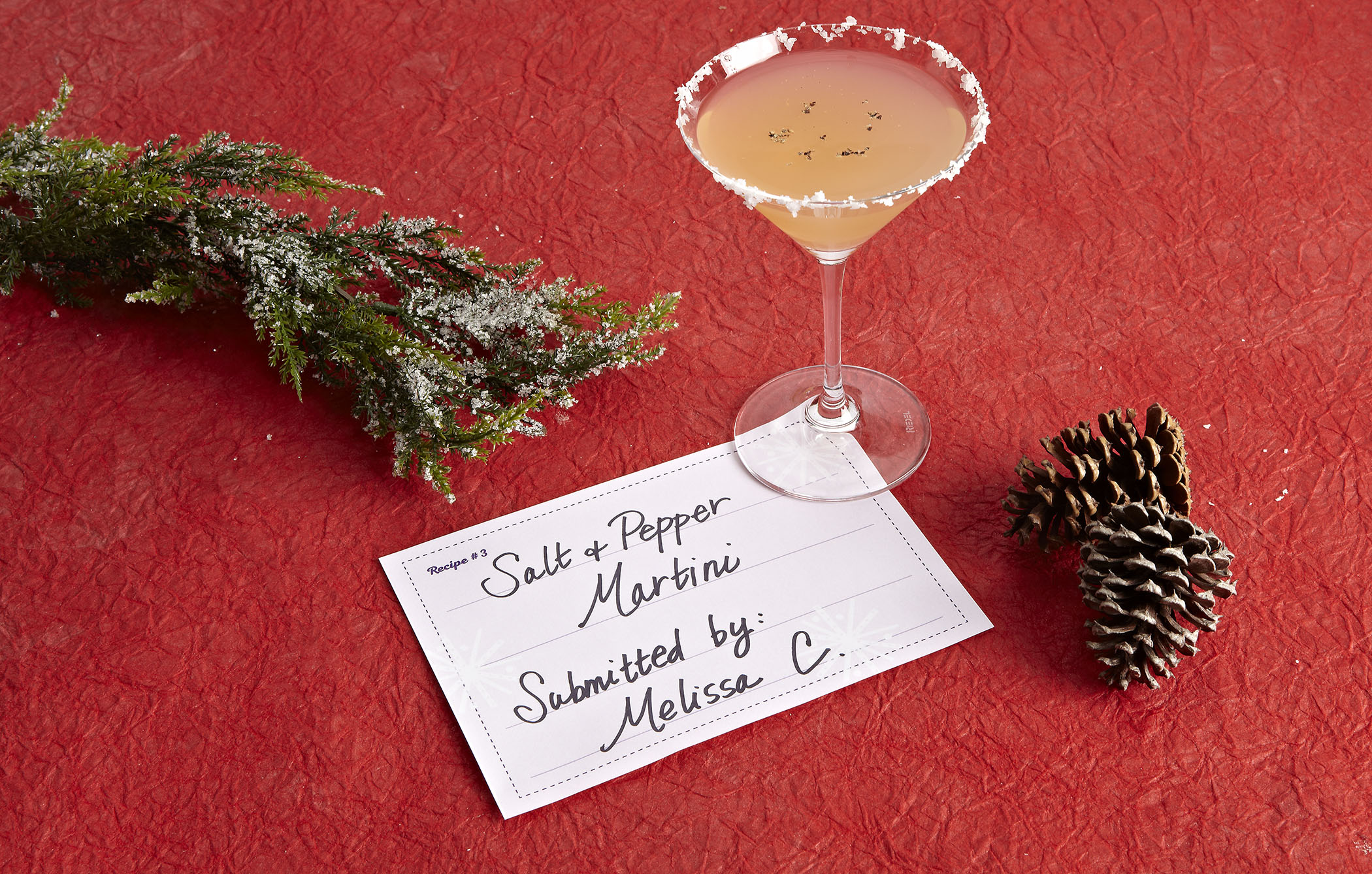 Ingredients:
1 1/2 oz gin
1/2 oz Cointreau
1 oz grapefruit juice (see–it's healthy!)
1/2 oz ginger infused simple syrup
3 dashes angostura bitters
1 oz Sprite
Preparation:
Shake gin and next four ingredients in a cocktail shaker over ice for about 20 seconds.
Add Sprite and shake for another 10 seconds.
Pour into a martini glass with a salted rim, and sprinkle with a small dash of fresh ground pepper.
---
The Finalists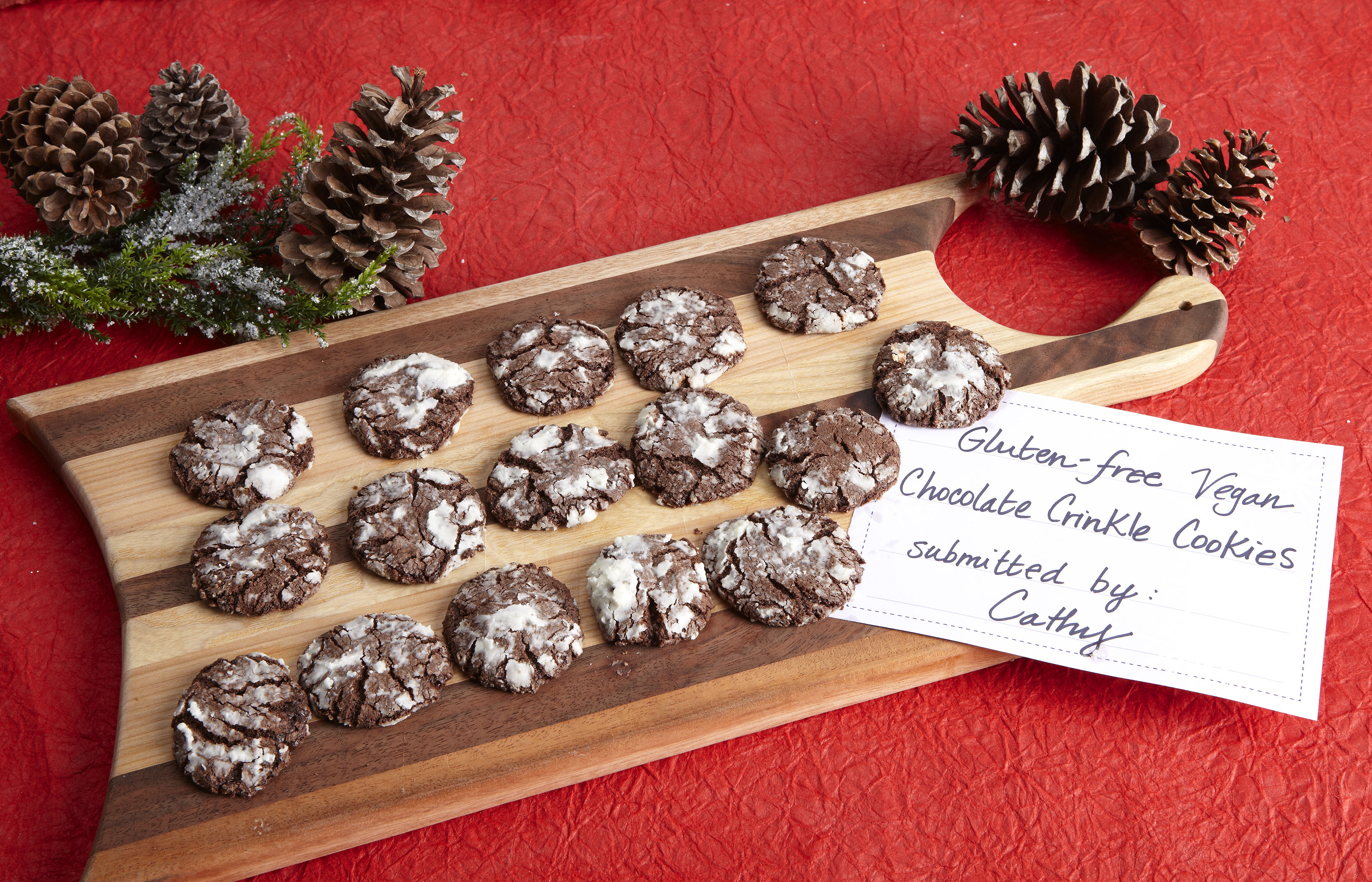 Gluten Free Vegan Chocolate Crinkle Cookies
Cathy's cookie story: My favorite treat to celebrate the holidays!
Ingredients:
1 cup dairy free chocolate chips (I used Enjoy Life)
1-1/2 cups gluten free flour blend (Bob's Red Mill is a good one)
1-1/2 teaspoons baking powder
2 tablespoons cocoa powder
1/4 teaspoon sea salt
3/4 cup brown sugar
6 tablespoons vegan butter (I use Earth Balance), softened
1/4 cup unsweetened applesauce
1/2 cup powdered sugar (set aside for rolling)
Preparation:
Measure and pour the chocolate chips into a small bowl & microwave until melty.
Start with one minute on 75-80% power and stir, then microwave another 15 or so seconds at a time, stirring each time until they're all glossy and smooth.
Set them aside to cool off a little. Resist the urge to lick the spoon after stirring.
In a large bowl, combine the flour, cocoa powder, baking powder and sea salt. Sift if necessary.
In another large bowl, cream the vegan butter and brown sugar.
Add the applesauce, then slowly add the cooled chocolate.
Add the dry ingredients slowly. The batter at this point thickens up quite a bit, and if you feel it's too dry, add more applesauce.
Cover the batter and refrigerate (or if you're hasty, like me, pop it in the freezer) so everything can firm up a bit. This will keep the dough from spreading out before baking.
Preheat the oven to 350 degrees.
Use your hands to roll the dough into little balls about 1″ in diameter.
Put them in the powdered sugar and roll around until thoroughly coated.
Put the balls on a cookie sheet (you may wish to use parchment paper) and bake 12-15 minutes.
Let cool for five minutes, then transfer to a wire rack to cool completely.
Maureen's cookie story: With a touch of rationalization, these are considered healthy. Our neighbors used to bring a whole tray of these over for the holidays – we loved them (and the cookies…)!
Ingredients:
2 3/4 c flour
1 1/3 c oats
1 tsp baking soda
2 1/2 tsp cinnamon
1/2 t salt
1 tsp nutmeg
1 t ginger
1 tsp ground cloves
1 c butter, softened
1 c brown sugar
1 c sugar
1 egg
1 tsp vanilla
1 c pumpkin
1 c m&ms, chocolate chips, butterscotch chips, raisins, or your choice (our favs are m&ms, choc chips and butterscotch chips).
Preparation:
Combine flour, oats, baking soda, cinnamon, salt, nutmeg, ginger and cloves.
In separate bowl, beat together butter, brown sugar, sugar, egg and vanilla until fluffy.
Add to dry mixture alternately with pumpkin.
Fold in remaining goodies. Drop on lightly greased (or use parchment paper) cookie sheets.
Bake 350, about 12 minutes.
Best Holiday Gingerbread Martini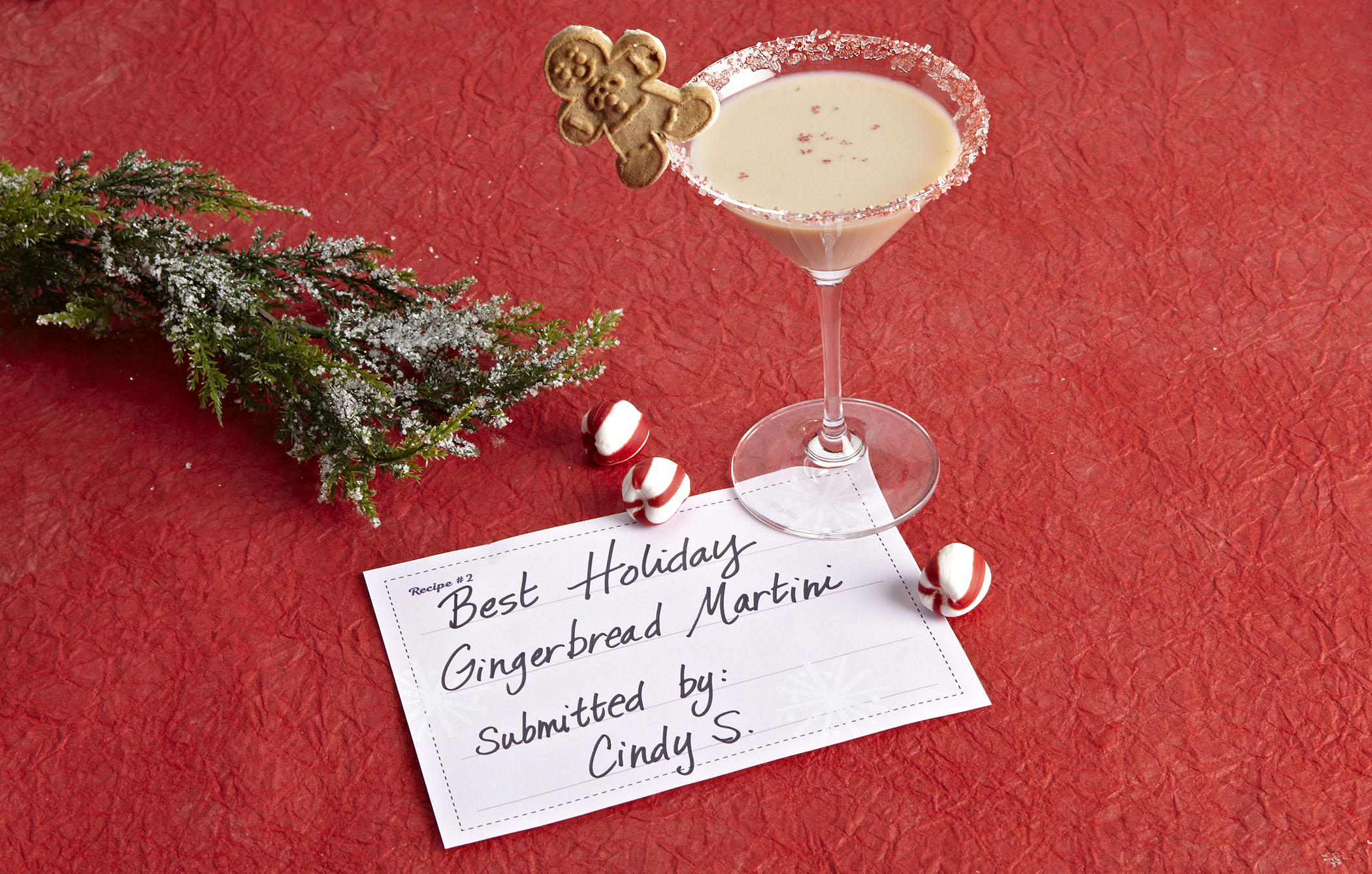 Ingredients:
2 Oz Bailey's
2 oz. Vanilla vodka
2 oz. Cinnamon schnapps
2 oz. Butterscotch schnapps
Crushed ice
Preparation:
Pour liquors into cocktail shaker.
Add ice.
Coat rim of glass with colored sugar.
Strain liquor into glass and perch a small gingerbread man on the rim. Enjoy!
Ingredients:
1 or 2 shots of vodka
4 oz of 100% pomegranate juice
Sparkling mineral water
Preparation:
Pour vodka in a tall glass with ice.
Add pomegranate juice.
Fill remainder of glass with sparkling mineral water.
Stir and enjoy.
Let us know which recipes you might add to your own holiday repertoire!
And from all of us at Title Nine, may your cookies be nice, your drinks be naughty, and your holidays be bright!