For the second year in a row, our minds are blown.
When we started the nonprofit edition of our Pitchfest initiative in 2021, we could only have imagined how many courageous women we'd get to know who are doing the truly hard work of creating impactful programming to support other women.
In this second annual Pitchfest Nonprofit Edition, we're even more in awe and properly inspired! This year's applicants shared stories of missions and causes so hard-hitting, we decided to switch up our usual pitch-forward programming and shift gears to a workshop focus where we could dig into new ways to connect in community.
What we really needed was a kitchen table where we could sit with these stories and understand the gritty, practical ways we could help the individual goals of each organization. So we built and filled up our own version of that kitchen table by inviting back a few past finalists and serving up key roundtable discussions with T9 team members, veteran activists, and local leaders. Because we know that it's not the kitchen table that's important, it's who gets in there to pull up a seat.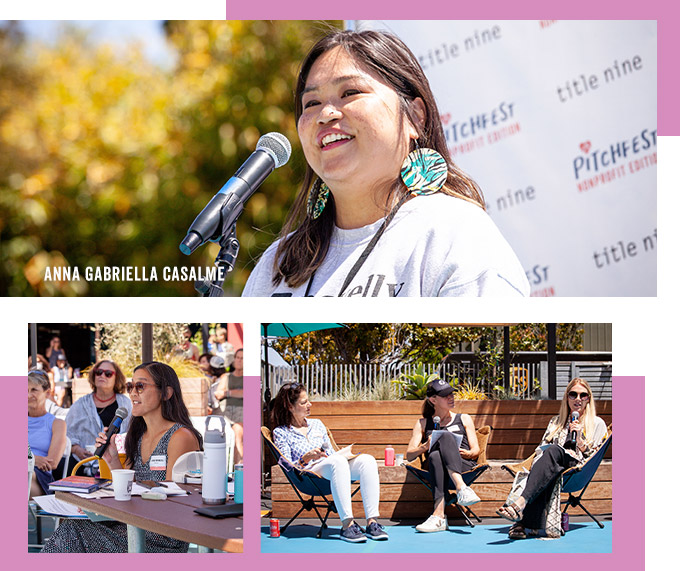 Before we got down to the nitty-gritty pitching, finalists got to pick up practical strategies in branding and content workshops with T9 marketing pros, ask a bunch of questions in 1:1 mentor meetings, and learn all about power tools at Girls Garage, a local design and construction school.
Now, about those Finalists!
Check out our 2022 Pitchfest Nonprofit Edition finalists and the goals they're working toward: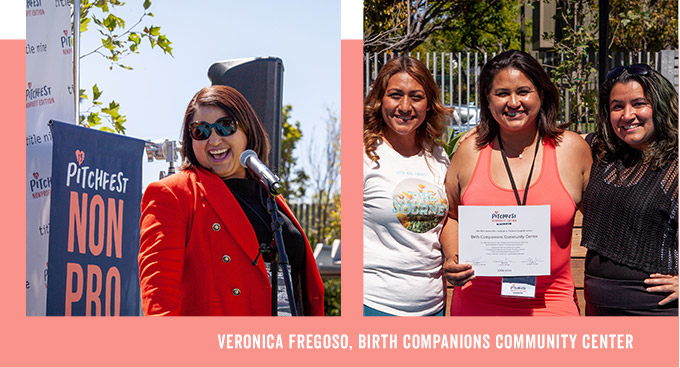 Birth Companions Community Center, led by Veronica Fregoso
This SF Bay Area organization provides perinatal education and doula support for more than 200 Latinx, Black, and Indigenous new mothers and their families every year. They organize mutual aid, wellness education and resources, and train new doulas in the community. Doulas at Birth Companions are currently volunteers, taking time away from their full-time jobs and their own families to provide this service.
$3,000 awarded to help fund fully paid doula positions.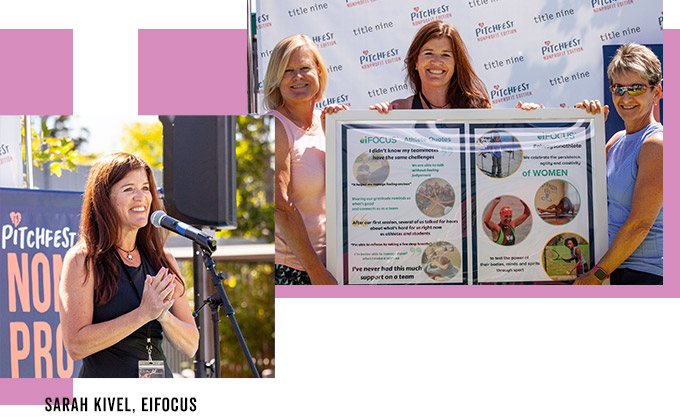 eiFocus, led by Sarah Kivel
For every coach that goes through the eiFocus training in emotional intelligence, 45 athletes are positively impacted. When we do the math, that's a pretty big team of athletes benefiting from this program based in mindfulness, awareness, and gratitude. EiFocus is working toward an inaugural SWEAT (Success With Empathy and Trust) in-person training program in Southern California geared to coaches of female athletes from all backgrounds and sports and hopes to reach 5000 coaches (225,000 athletes) in the next five years.
$3000 awarded to expand their in-person programming reach.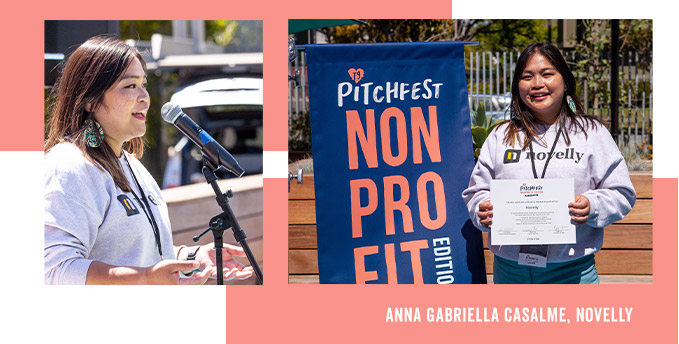 Novelly, led by Anna Gabriella Casalme
As an educator, founder Anna Gabriella Casalme heard from students who were afraid their parents wouldn't come home from the hospital, who were bullied because of their race, whose homes were damaged by fires or flooding. She wanted to create a safe space to share, to read, and to heal. Novelly is a digital publishing platform dedicated to amplifying diverse youth voices by helping teenage readers to use the power of courageous storytelling to lift up the voices of marginalized communities.
$5000 awarded to expand SPEAK! Leadership Certification & Awards that celebrate accomplishments in dialogue facilitation.
We also got to hear from 2021 Pitchfest winners about what they've been up to in the last year: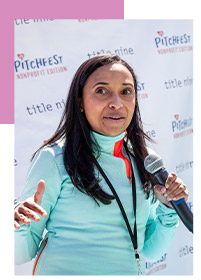 Girls Crushing It, led by Roxanne Christophe
Grass certainly doesn't grow under the feet of Roxanne Christophe, who in the last year partnered with T9 on two major initiatives to boost 30 lucky girls on their entrepreneurship journey (not to mention the 1000 other girls this organization impacted through their routine workshops and curriculum kits). Hot on the heels of the first Corporate Field Trip to the T9 Mothership (think: behind the scenes learning on product development, marketing, and number crunching), Girls Crushing It got plans in motion for a Girls Edition Pitchfest. Pitching for a chance to peddle their wares at the T9 Berkeley store, these girls got a chance to hone their public speaking skills (thanks Practice Space!) and expand their visions of what entrepreneurship can look like.
$5,000 to expand their curriculum and reach over 2000 girls in the next year.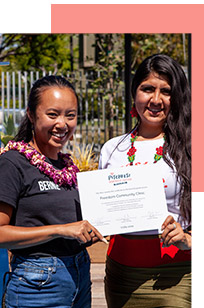 Freedom Community Clinic, led by Bernadette Lim & Eli Jimenez
Co-founders (and last year's Pitchfest Nonprofit winners) Bernadette Lim and Eli Jimenez have a lot to celebrate. In the last year they opened two physical healing spaces, hosted 100 pop-up Community Healing Clinics serving over 3000 people, and oh, Bernadette also graduated from med school. Dedicated to whole person community healing that combines ancestral and Indigenous modalities with the strengths of western medicine, Freedom Community Clinic is creating a new standard of what community and family medicine can look like. They partnered with over 40 organizations to prioritize healing services for BIPOC women, created Empower, a program providing free therapy, primary care for Spanish speaking at-risk youth, and established themselves as a critical community healing pillar in the Bay Area.
$5000 to fund Community Healing Clinics.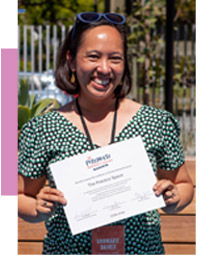 The Practice Space, led by AnnMarie Baines
Fueled by the important work of elevating underrepresented voices, The Practice Space rode the momentum from last year's Pitchfest and served an additional 400 new participants (for a grand total of 1600 people) through in-person and online public speaking coaching and support. Over the last year they worked with the first City of Richmond Poet Laureate, partnered with 16 community organizations in underrepresented communities, and created the Expressive Leaders program to encourage young leaders to use their voices to support positive community change. As AnnMarie Baines says, "our afterschool programs are quirky, silly, and fun, but our mission is serious."
$10,000 to expand school programming and community reach.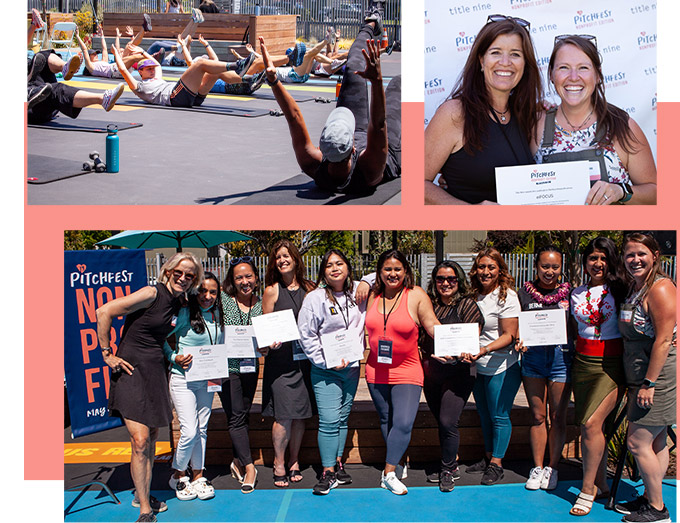 We couldn't get the day done and dusted without the generous support of our local women-led vendors. And since the best ideas come from brains that are properly fueled, we made sure to bring in plenty of snacks and treats. Breakfast chia pudding from Nana Joes Granola, cold brew from Cafenated Coffee Co., handmade popcorn snacks from BrownBag Popcorn Co., cookies from Always Yours Bakery, lunch from Artisan Kitchen, and of course, post-event beverages from BRAMs Beer and Just Enough Wines.
A huge thanks to all the women who showed up today (and who show up every damn day) to make a difference in their communities. We're grateful for all the hard work, the humility, and the humanity we get to experience in this powerful event.