No 'shrink it and pink it' here: it was fascination at first click. Who
wouldn't
fall for a watch that affirms badassery post workout?
Woman owned and operated with a very open, honest dialogue with their customer base and backers, partnering with Bia Sport for our upcoming Bay Area Title 9K was a natural choice. The fastest woman and fastest gal over the line in September will both receive a killer prize pack, including the new-to-market Bia multisport GPS watch.
This T9HQ resident gear junkie was thrilled to get her paws on a Bia – and am even more thrilled to announce that Title Nine and Bia Sport are teaming up to give YOU a chance to win a Kickstarter edition watch of your own! Simply register for the Bay Area Title 9K by Friday, August 29th and you'll be automatically entered to win.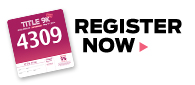 With the watch fresh off of Kickstarter, I was fortunate enough to meet with the gals from Bia Sport in person and receive a Kickstarter edition Bia to try. I'll admit that I love my current Garmin – we've been through a lot of firsts together – but I was amazed at some of the new features Bia pulled out.
More